Children & Young People's Mental Health Report 2020 (Including Covid-19 experiences)
Children, young people, parents and carers tell us what they think contributes to poor mental wellbeing of young people including the changes they would like to see to improving the provision of mental health information across the town.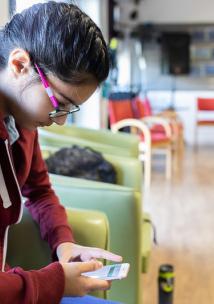 Summary
We spoke to 478 children, young people, parents and carers about the provision of mental health services and information in the town for young people and families. 
This report contains information about what young people, carers and their families are experiencing when using local services in normal times; what everyday life events are affecting young people locally which helps to indicate areas of intervention and what young people and families want to see when it comes to information sharing in the town. Finally, this report also offers an insight into the complexities of how the pandemic has affected young people and their families across Darlington
General Findings
Using Services:  
When analysing the findings both young people and parent/carer/individuals indicted that they mostly used CAMHS but this was often with another service such as a school counsellor. Overall, the waiting period is still too long, with some individuals reporting more than 9 months wait after an initial appointment. We know improvements have been made to the waiting period with CAMHS and a target for further improvements is something they wish to improve further which has been noted. CAMHS worked with us to further understand the needs of service users and to identify throughout this survey how they can make more improvements. Whilst the waiting target is something that might take time to improve, a number of suggestions has been made to the improvement of information and support during the waiting period. More signposting and communication are key in improving the experience for service users.
Information Awareness:
Information and awareness have been key indicators identified as an area of improvement in earlier reports which meant these areas needed to be strong features within this report. We wanted to understand further the many reasons a young person's mental health may be affected.
It's widely known that many contributing factors can play a part in the deterioration of mental health and that early intervention and prevention can be key in reducing the numbers of people who end up needing NHS support. When we analysed findings from both young people and parent/carers/individuals overwhelmingly 'Body Image' and 'Bullying' were key contributors with additional comments that this could be linked to the overexposure to social media and the internet. This was closely followed by alcohol, drugs, sexuality and racism. Many young people would go to a parent/carer of support and help with these issues which could indicate a lack of awareness of where else to go. Worryingly a proportion of parent/carers/individuals didn't know where to go for this information which leads us to believe that young people relying on parent/carers is not always the best option for support.
More targeted work at local level is needed to improve this.
Education:
When analysing the findings for this area of the report young people had a sound knowledge of what was available within the educational setting to help support their mental health with a range of support identified. However, a larger proportion of parent/carer/individuals were unsure of what support was available.  This may pose as a barrier for some young people who rely more heavily on a parent/carer/individual for support in school/college to get the help they need. Many young people, parent/carers/individuals feel more education and awareness is needed within schools covering a range of topics. Some similar to those identified in the information and awareness section such as bullying. 
Event:
Although plans for holding an event in Darlington are placed on hold due to the pandemic we feel the findings within this section of the report provide an interesting insight into the needs of young people and families which may be useful to commissioners and providers in the future. Young people, parent/carers/individuals all indicated that a good array of information to promote good mental wellbeing would be helpful, as well as meeting local services to help understand the local offer and the provision in Darlington. Key themes that they want to learn more about included anxiety, sleeping, keeping fit, self-help techniques and strategies, depression, local help and support, and sleep and eating disorders.
Covid-19 Findings
Choice:
When talking to both young people and parent/carers/individuals they have strongly indicated that when it comes to healthcare appointments in the future, the choice is important and that face to face must remain an option, especially when it comes to mental health. They believe that this will very much depend on the young person's needs and not all appointment methods will fit all. The 'Attend anywhere' scheme has helped young people with choice during the pandemic but when it comes to more choice as lockdown eases they would have a preference for face to face.
Service delivery: 
Young people who have used services for mental health during lock down have reported a mixture experiences with some being positive whilst others negative. Young people have highlighted that they feel the delivery of a service has varied and that sometimes the service was not suitable in the current pandemic. For example; self-care activities which required to go outside and impersonal telephone appointments which felt scripted. 
Communication and support:
Some families have felt that communication between services and schools has been disjointed and that this need improving in the future. One family reported a complete shutdown of support when lockdown begun, and they felt abandoned. However, another family reported fantastic support which indicates that there is inconsistencies across the system.
Information sharing:
Some young people and parent/carers have felt that information and messages have been inconsistent during lockdown from schools or colleges which has increased feelings of anxiousness and frustration.
Acknowledgments
Healthwatch Darlington would like to thank local service users, patients and families for taking the time to take part in this engagement work. It is very much appreciated and has given us a greater understanding of access to services for children and young people.
We would also like to thank the voluntary and community sector organisations who arranged for Healthwatch Darlington to talk to young people, parents and carers. Without your support we wouldn't be able to reach the diverse range of people we need to engage with in our community.
Finally we would like to thank our dedicated team of volunteers who supported this work using their local knowledge and expertise to gather people's views.
Via our Children and Young Peoples Local Transformation Plan (LTP) we have agreed that communications and marketing needs to be a future key priority; we need to ensure that services are connected and that children and young people, and their families know how to engage with services. We have also agreed that this report should form a large part of the Darlington LTP 2020 and beyond and look forward to working with Health Watch Darlington and partners on this. The data set helps us understand our current position and aids us to set improvement plans to meet the now and future needs for emotional wellbeing and mental health support, and furthermore will help the CAMHS whole pathway review.