Healthwatch Darlington Annual Report 2022
Championing what matters to you!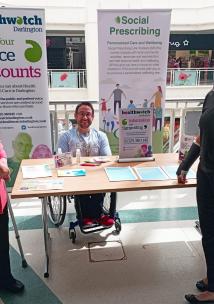 Listening to your experiences
Services can't make improvements without hearing your views. That's why over the last year we have made listening to feedback from all areas of the community a priority. This allows us to understand the full picture, and feedback to services to help them improve.
Advice and information
If you feel lost and don't know where to turn, Healthwatch is here for you. In times of worry or stress, we can provide confidential support and free information to help you understand your options and get the help you need. Whether it's finding an NHS dentist, how to make a complaint or choosing a good care home for a loved one – you can count on us.
This year we helped people by:
Providing up to date information on COVID-19
Linking people to reliable information they could trust
Supporting the COVID-19 vaccination and booster programme
Helping people to access the services they need
Volunteers
We're supported by a team of amazing volunteers who are the heart of Healthwatch Darlington Thanks to their efforts in the community, we're able to understand what is working and what needs improving in NHS and social care.
This year our volunteers:            
Helped people have their say from home, carrying out surveys over the telephone and online.
Created digital content on our website and social media.
Carried out website and telephone reviews for local services on the information they provide and assessing their accessibility.
Assisted as part of 'Readers' Panels' – checking local services' publications to make them more people focussed and easier to read.
Continued to help with the local volunteering efforts supporting those who were self-isolating.
Top three priorities for 2022–23
Mental Health Services
GP Access
Dentistry
Next steps
The pandemic has shone a stark light on the impact of existing inequalities when using health and care services, highlighting the importance of championing the voices of those who all too often go unheard.
Over the coming years, our strategic aims are:
To help reduce these inequalities by making sure your voice is heard, regardless of where you live, income or race.
To empower you to voice your worries and concerns and help local and regional decision-makers to act upon them to improve local services.
To provide you with accurate, reliable, relevant and useful information about local services, when you need it, in a format that meets your needs.
To continue to develop effective strategic partnerships with statutory, voluntary and community sector organisations and established special interest groups, in order to identify any patterns or trends and take appropriate collaborative action.
To deliver an effective service for the public and provide maximum public benefit in return for the investment made in our activities
"Finally we have had challenges here in Healthwatch Darlington due to staff changes and staff sickness but have managed to still do sterling work. We are very fortunate to have a group of dedicated volunteers and Board members who have helped and supported our small team with all our projects, focus groups, events and meetings through a difficult time, and for this I extend my sincere thanks for their commitment and enthusiasm"
Your health and social care champion
Healthwatch Darlington is your local health and social care champion. From Barmpton to Whessoe and everywhere in between, we make sure NHS leaders and other decision makers hear your voice and use your feedback to improve care. We can also help you to find reliable and trustworthy information and advice.
Healthwatch Darlington Annual Report 2022