Learning Disabilities Useful Links and Information
We've put together a range of information from a number of organisations that provide groups, activities, resources and information to support people with a learning disability.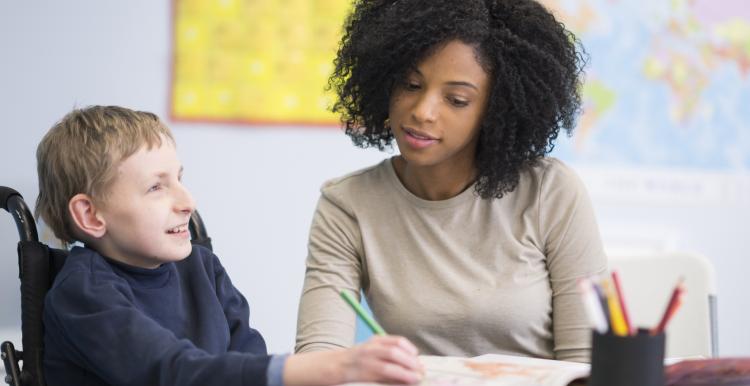 Groups and Information
Darlington Support
The group supports residents requiring help across our town by organising the efforts of volunteers who can provide assistance.
https://darlingtonsupport.uk/index.php
Darlington Association on Disability
Support disabled people and their carers through the provision of services, support and information.
https://www.darlingtondisability.org/
Little Treasures Autism Charity
A volunteer run charity who support autistic adults and children right across the North East. 
https://www.littletreasuresautism.co.uk/
ManHealth
Support men experiencing mental health issues through their peer support groups.
Family Fund
The UK's largest charity providing grants for families raising disabled or seriously ill children and young people.
https://www.familyfund.org.uk/
Darlington Library Home Delivery Service
The service is for Darlington residents of all ages, who are unable to access their Libraries because of ill health, disability or frailty, or if you find it difficult to visit the library or carry books.
https://www2.darlington.gov.uk/web/arena/welcome
Hidden Disabilities Sunflower
Wearing the Hidden Disabilities Sunflower discreetly indicates to people around you including staff, colleagues and health professionals that you may need additional support, help or a little more time to carry out a task.
Activities
Hall Hill Farm
An award-winning farm attraction, see the animals, cuddle the rabbits and guinea pigs, donkey rides, tractor and trailer rides.
http://www.hallhillfarm.co.uk/
Intro2Archery
Making archery available to everyone aged 6 years upwards regardless of abilities. 
https://www.facebook.com/intro2archery
TIN Arts
Dance and Performing Arts for everyone. Inclusive programmes based in the North East and delivering across the North of England.
https://www.facebook.com/tinarts
ROF 59
ROF 59 is an Activity Centre in Newton Aycliffe with a wide variety of activities with something to suit everyone of all ages and abilities.
Café JJ
Provide education and training in catering to adults with learning disabilities through their community café.
Age UK North Yorkshire & Darlington
Provide a wide range of services tailored for the over 50's in Darlington.
Vue
Vue Darlington offer subtitled films every week, audio description on a selection of films and some screens are equipped with infrared technology to provide hearing assistance. They also host autism-friendly screenings.
https://www.myvue.com/cinema/darlington/accessibility#undefined
Resources and NHS support
Adult learning disabilities services
The Darlington community health team help to improve the health of people with a learning disability.
Autism Matters
An established organisation, based in the North East of England, offering a range of support and services for adults on the autism spectrum. 
http://www.autism-matters.co.uk/
North East Autism Society
For 40 years NEAS has been empowering and supporting autistic children, young people and adults, and their families, in the North-east.
Quiet Hour shopping every Sunday in Darlington
Every Sunday during Quiet Hour in Darlington, shops and other venues turn off their music and children's rides to help create a calmer and more relaxed atmosphere. These changes will help those who need quieter and calmer surroundings, including elderly shoppers or people who have other types of disabilities such as autism and dementia.
https://www.darlington.gov.uk/your-council/news/news-item/?id=762
Dimensions
Dimensions provides personalised social care services for people with learning disabilities and autism, including challenging behaviour and complex needs.
The National Autistic Society
The UK's leading charity for autistic people and their families. Their goal is to help transform lives, change attitudes and create a society that works for autistic people
Mencap
Support parents, carers and people with a learning disability to lead a full and valued life. 
https://www.mencap.org.uk/advice-and-support
Mind
Provide advice and support to empower anyone experiencing a mental health problem. They campaign to improve services, raise awareness and promote understanding.
County Durham and Darlington NHS Foundation Trust -  County Durham & Darlington Support Services
Offer a range of help and assistance to help people access their services so that they are accessible to all patients.
https://cddft.nhs.uk/about-the-trust/equality-and-diversity/county-durham-darlington-support-services.aspx
Darlington Borough Council - Adult Social Care
Offer support to enable older people, carers, people with a physical, visual or hearing impairment, a learning impairment or a mental health need to live as independently as possible in their local communities, help and support is available.
https://www.darlington.gov.uk/health-and-social-care/adult-social-care/support-information/
Livingwell Darlington
A service that provides information and signposting to a wide range of services, activities and organisations in Darlington, to help everyone find the support they need to live healthy independent lives.
https://livingwell.darlington.gov.uk/
Darlington Borough Council - Blue Badge Scheme
The scheme helps those with severe mobility problems, who have difficulty using public transport or struggle to park close to where they need to go.
https://www.darlington.gov.uk/health-and-social-care/adult-social-care/getting-out-and-about/blue-badges/apply-for-a-blue-badge-online/
YoungMinds
The UK's leading charity fighting for children and young people's mental health.
https://youngminds.org.uk/find-help/your-guide-to-support/guide-to-camhs/