#BecauseWeAllCare - campaign and survey launched!
Healthwatch Darlington are today, together with the Care Quality Commission, launching a new #BecauseWeAllCare campaign encouraging the public to share their experiences, both good and bad, to help improve services in Darlington.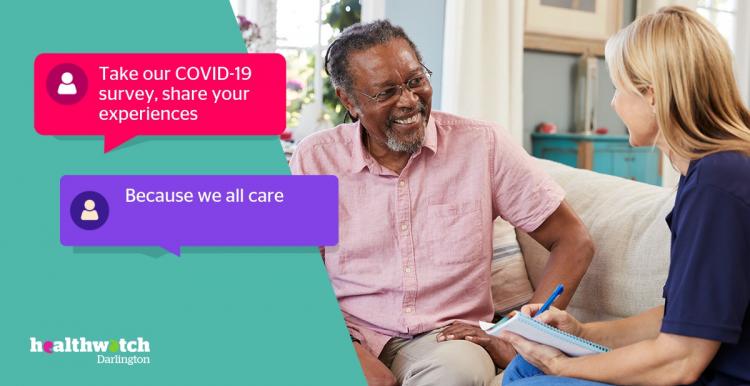 As health and social care services work to provide the best possible care during COVID-19, public feedback can play a crucial role to help us identify and address issues that affect the quality of people's care - that's where you come in.  
Following an experience with a health or social care service, you can share your feedback – both positive and negative - with us by completing an online survey.
To complete our short survey today, just click below.  
We can also provide easy read versions of our questionnaire so please contact us to arrange your copy.
Alternatively, we can send you a questionnaire in the post, arrange a telephone appointment or you might like to take part in one of our planned online focus groups? 
Our focus groups are aimed at giving you a platform to share your COVID-19 care experiences with us.
The final focus group taking place is:
Get in touch - we are here to help!
Please read our Stakeholder briefing which outlines why we're launching this campaign and a call for local service users or groups who may wish to take part to get in touch.
Across the summer our team will be focusing on digital services, families and young people and hospital discharge.
All our team are working from home but we can still be contacted during our normal operational hours 9am to 4pm.
Email: info@healthwatchdarlington.co.uk 
Telephone: 01325 380145 (Please leave a message and someone will get back to you as soon as possible)
Mobile: 07525 237723