Darlington Primary Care Report 2019
Last year 363 service users in Darlington told us they were either 'very satisfied' or 'satisfied' when it comes to communicating with a GP or health professional during a GP appointment.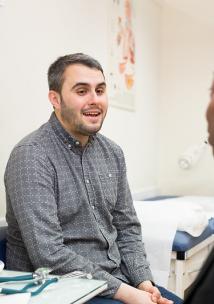 Summary
Healthwatch Darlington's 'What's important to you survey' found that the people of Darlington were raising concerns about access to General Practice (GP) services. This report contains information about our health care landscape including data from several National Health Services (NHS) England documents. 
The findings of the survey give information about how people perceived the services to be; from booking appointments, choice, communication, administration, and accessibility whilst also incorporating feedback from receptionists and nurse practitioners.
Findings
Throughout this process Healthwatch Darlington has listened to the patients, carers and staff to ensure we have captured their thoughts and feelings when it comes to the general experience of using their GP surgery.
The following key themes emerged throughout this piece of work:
Booking appointments –
When analysing the findings, it became clear that both service users and health professionals feel there is room for improvement when it comes to booking a GP appointment. Service users feel the system is slow and although there are now a number of options to book an appointment, these options are not suitable for everyone.
Choice –
The findings presented a mixed picture when looking at the service users experience of choice. Some service users were happy with the choice/options presented to them within their surgery. They continued to express confidence in the receptionist to understand their needs. Whereas other service users felt that they were never asked if they had a long term/ongoing health condition when choosing a health professional.
Communication with staff –
When analysing the findings, service users told us that on the whole their experience with the receptionist and health professionals within the surgery was positive. However, some services users reported a different experience. 
Administration –
The findings presented a positive experience for service users who need referrals. They feel the service provided by the GP surgery to make the referral is fine. However, problems start to occur once this referral is received by the other service.
Accessibility –
Finally, the findings presented mostly a positive experience for service users when it came to accessibility. However, a number of concerns were still highlighted.
Acknowledgements 
Healthwatch Darlington would like to thank local service users, patients and families for taking the time to take part in this engagement work. We would particularly like to thank the voluntary and community sector organisations, especially DAD, NECA, and GP Services that arranged for Healthwatch Darlington to visit their premises. Without your support, we wouldn't be able to reach the diverse range of people we engage with.
We would especially like to thank our dedicated Health Connector volunteers who supported this work, using their knowledge and local expertise to gather people's views.
Thank you for the recent report, sharing survey results gathered by Healthwatch from local people using general practice services. The report was really accessible and well-structured and provided lots of detail to help understand how it feels for patients using local general practice services. It was also helpful to understand both the challenges and the areas where things are working well for patients. The spotlight on particular issues for patients with long term conditions was useful.