Digital Exclusion Report 2021 - Understanding patient experiences when using primary care services
Our latest report explores the barriers local patients have faced when accessing GP appointments remotely during the pandemic.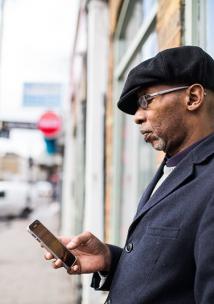 During a year of unprecedented times NHS GP services have had to make extraordinary changes to how they manage access to their services whilst maintaining the safety needed for patients and carers during the Covid-19 pandemic. This project, grant funded by Healthwatch England and match funded by Darlington Primary Care Network looks at how the impact that moving to remote appointments has affected the population of Darlington.
Summary
In our research we found that for the most part, remote consultations have worked well and have created some great opportunities for a different way of working for professionals, and a more convenient way for patients to access services. However this report also highlights some of the difficulties faced by local people especially those from socially deprived areas who may not have access to digital equipment such as laptops, tablets and smart phones, or who cannot afford the extra data needed.
People whose first language is not English have found making appointments or speaking to a GP over the phone challenging, and for those with learning disabilities most felt a face to face appointment was better especially as facial expressions were important to them.
Acknowledgments 
Healthwatch Darlington would like to thank everyone who completed the surveys and to the participants in our online focus groups. Your experience of local services, your comments and opinions and your patient journeys are so appreciated and will help us to influence at a strategic level to ensure the planning and delivery of services meets your needs and those of your family and friends.
Thank you to all our volunteers who supported us with our research by actively sharing the surveys in our local communities and with your own contacts. We also appreciate the support from our local voluntary and community sector especially Darlington Association on Disability (DAD) who helped us reach people with disabilities and to Councillor Ali for helping us reach out to our BAME communities. We could not do what we do without your fantastic support.
Healthwatch Darlington extends its gratitude to the Darlington Primary Care Network who have helped us liaise with patients, carers and professionals to establish an understanding of the impact the Covid -19 pandemic has had on accessing GP services in Darlington. This has proved invaluable when working in such a changeable landscape and we would like to further extend our thanks for the care and support they have shown their patients and carers when under such immense pressure.
We would also like to thank Healthwatch England for all their support with this project. The guidance and documentation have been easy to follow both in the messages conveyed to the public and the engagement coordination. Our Healthwatch England research team have been invaluable.