Maternity Experiences 2021 Report
This report provides insight into the experiences of those who use maternity services in Darlington.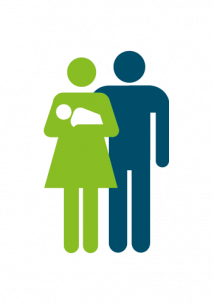 Healthwatch Darlington engaged sixteen new mothers who have recently used the maternity services. The information provided was reviewed alongside recent engagement exercises by County Durham and Darlington Maternity Voices in Partnership, and local media articles to gain a rounded picture of current maternity services in Darlington.
It was uplifting to read the comments some respondents made about excellent care received before, during and after birth of their babies. This first-rate level of care however was not consistent and many reported poor attitudes and lack of effective communication to pregnant women and new mothers at this pivotal time in their lives.
It was disappointing to see that the high levels of satisfaction seen during a similar exercise in 2017 was significantly reduced. Unfortunately, due to COVID-19 restrictions, we were not able to reach as many people as we would have liked, but the quality and richness of the feedback we did receive is valuable.
One of the recommendations of our 2017 report is still an issue for many women using maternity services. We recommended 'closer monitoring of nursing and midwifery staff by line managers and issues of negative attitude directly challenged and corrected,' and several respondents in our 2021 survey cited poor attitude of staff as a concern.
The recommendations within this report are critical to ensure the highest level of care is available to all. Three key areas which require focus are:
Effective and timely person-centred communication pathways; letting patients know what will happen, when and how, in the various stages of pregnancy, labour and after the birth of their baby.
Effective planning and communication of business continuity scenarios such as encountered with lack of shower facilities.
Attention to staff attitudes and recognising when staff need support to give supportive, empathetic, and understanding levels of care.
Healthwatch Darlington thanks those who took part in our survey and the support of County Durham and Darlington Maternity Voices in Partnership for their insight.
We shared the outcomes and recommendations with Tees Valley Clinical Commissioning Group and County Durham and Darlington NHS Foundation Trust and we would like to extend our thanks and appreciation for their responses.