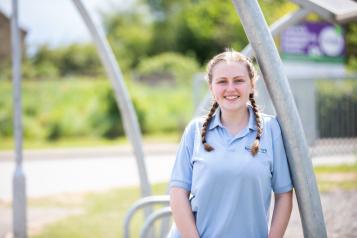 How it works and how our young volunteers have made a difference 
Healthwatch Darlington have a legal duty to ensure that young people have the opportunity to share their views and experiences. Young people have a right to be involved at all levels of health & social care. We create opportunities for young people to make a real difference to health & care in the Borough of Darlington.
They have worked with 3 GP surgeries and NHS health professionals to improve the waiting areas, provision of information and practice websites for young patients.
They have worked collaboratively with CAMHS to share ideas and influence improvements in the waiting area and provision of information for young patients.  
Created advice and information for young people raising awareness about (Body Image, Alcohol Awareness, Mental Health, Carers Rights, Loneliness and Energy Drinks)
They have created their own online information sessions raising awareness during the pandemic speaking to CAMHS, Darlington Mind, NSPCC and Kooth (Watch here: YouTube)
They have listened to young people during the pandemic when it comes to mental health.
They have listened to young people's experiences in relation to sexual health services.
They have visited schools, colleges and community venues speaking to other young people about mental health services.
They have visited community provision available for young people sharing information (Summer lunch clubs, Carnival, Leisure Centres)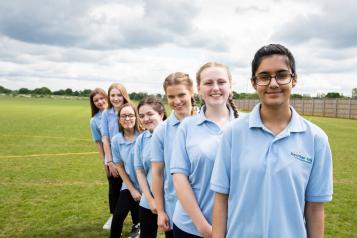 Recognition and awards
All of our volunteers receive recognition for their shared time. On occasion volunteers are selected to receive our 'Volunteer of the Month' award which celebrates their enthusiasm and dedication for helping others. 
During 2020 Jessica Mather and Amy Adams from Youthwatch Darlington both received these awards. During 2021 so far Jaden Kirk has received an award. 
To date some our young volunteers have been able to achieve real changes which means in 2020 our young volunteers received a thank you letter from 'Her Royal Majesty's' Lord Lieutenant of County Durham, Mrs Sue Snowdon and what's more our young volunteers were recognised at Healthwatch England's national award ceremony taking home 'Highly commended' and was 1 of  only 12 local Healthwatch out of 152 across the country to receive this.
During 2021 our young volunteers efforts to improve the provision of mental health information within their community was recognised again. They featured in the Royal College of Pediatrics & Child Health Annual Conference which was observed by almost 1600 delegates from across 37 countries globally.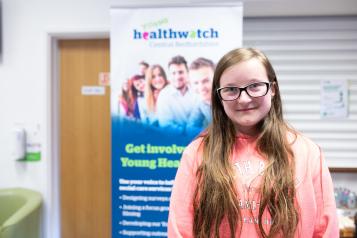 How, When and Training
All of our volunteer opportunities are currently from home so any young person would need access to a computer and the internet to participate.
Young people don't need to commit to regular sessions or set times. We offer a flexible and no pressure experience for young people which is perfect for young people with other commitments. If a young volunteer has to take some time away due to other commitments, the door is wide open for them when they can return.  
All of our young volunteers are offered regular training providing them with key skills to enable them enjoy their volunteer role.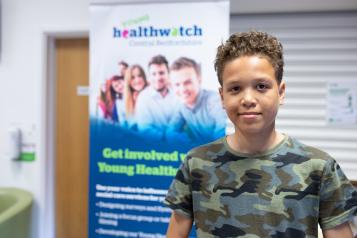 How can health & social care providers and commissioners work with Youthwatch Darlington?
It's simple - if you would like to find out how Youthwatch Darlington can help shape and improve your health and social care service please get in touch, we would love to hear from you. 
m.thompson@healthwatchdarlington.co.uk - Michelle Thompson B.E.M., Chief Executive Officer                                                               
See some of our young volunteers in action
Youthwatch Darlington interview NSPCC and Kooth for this year's Children's Mental Health Week 2021.